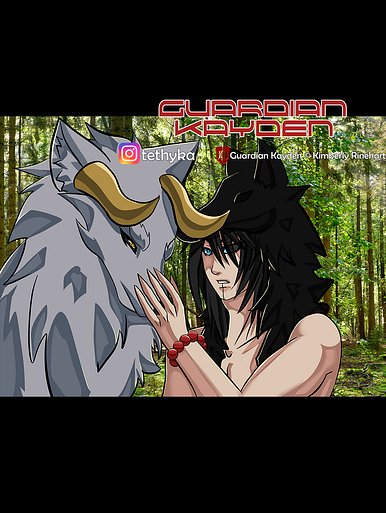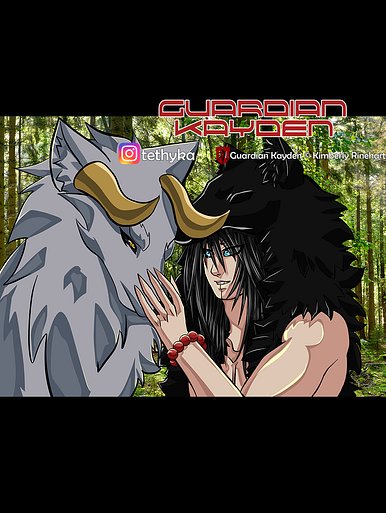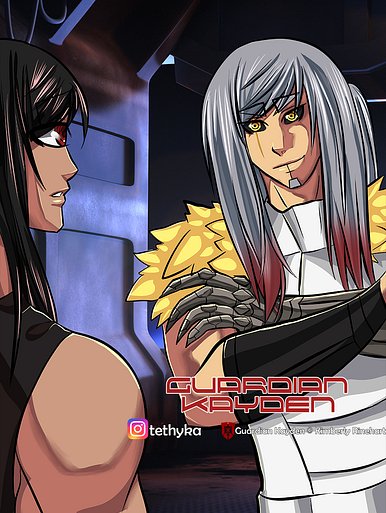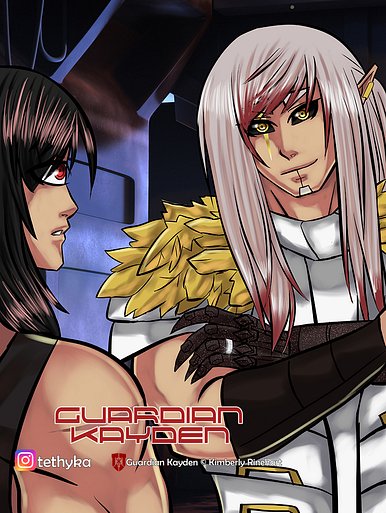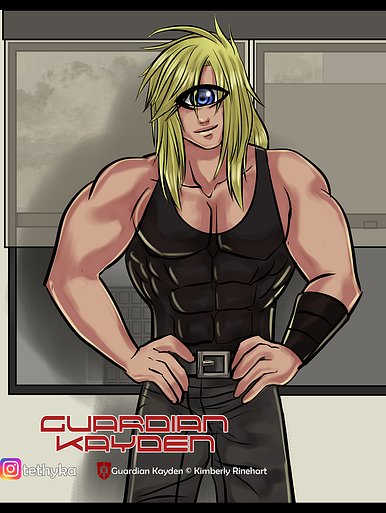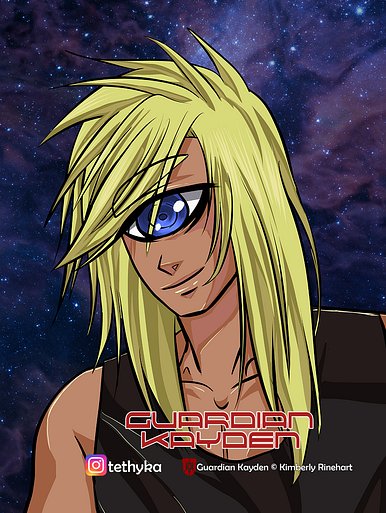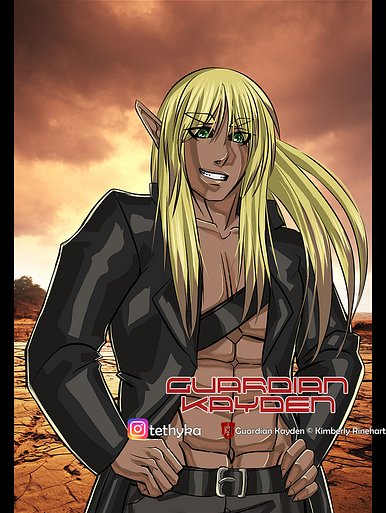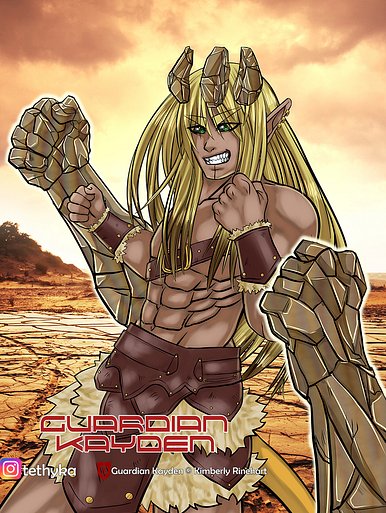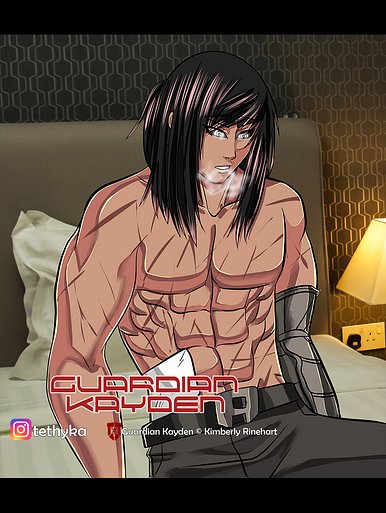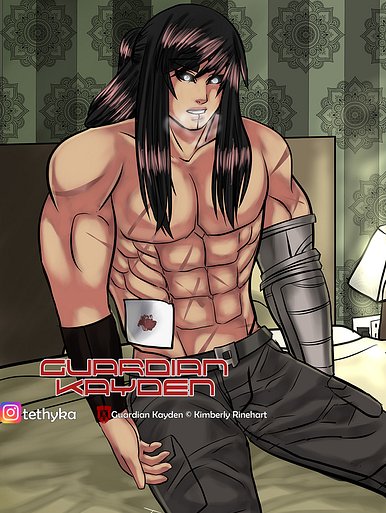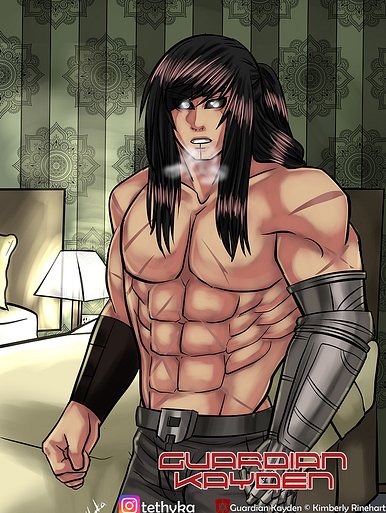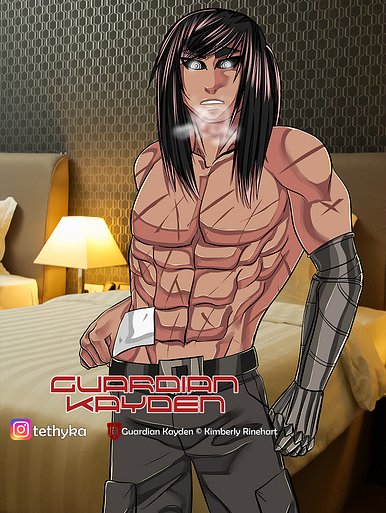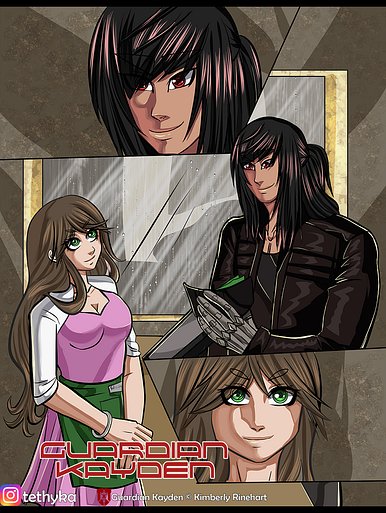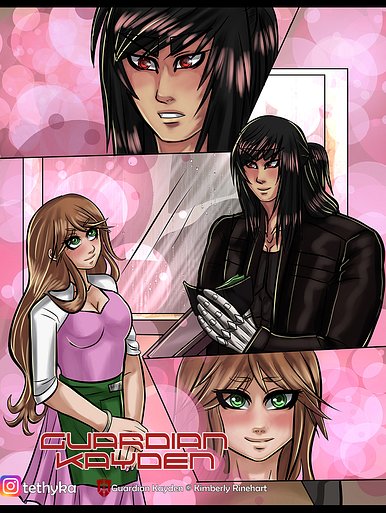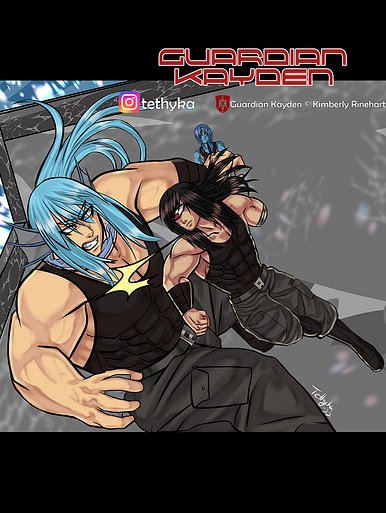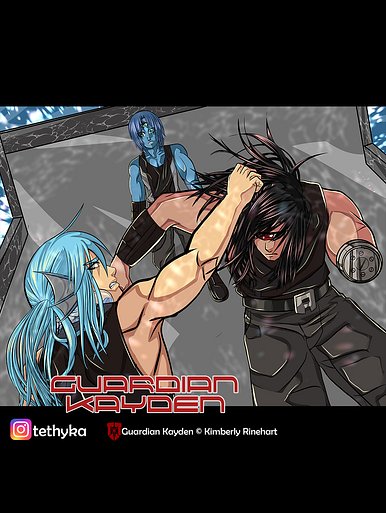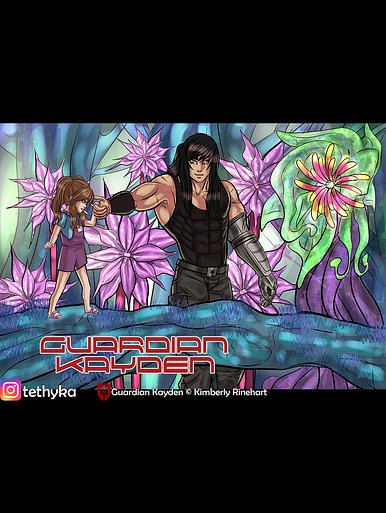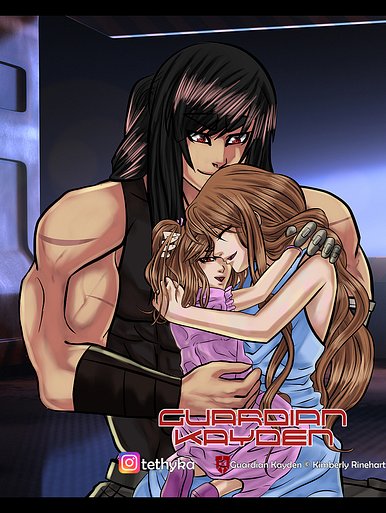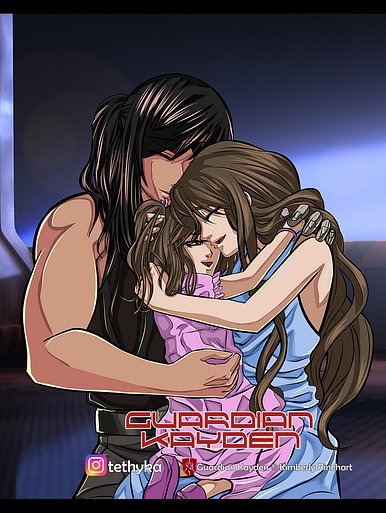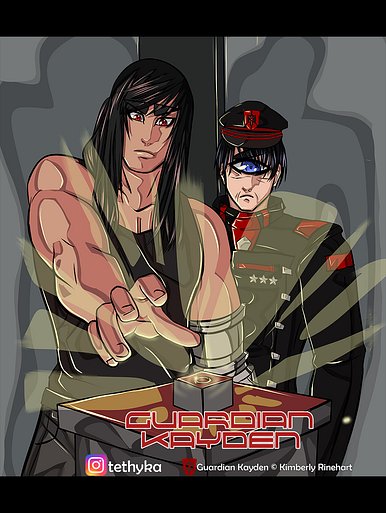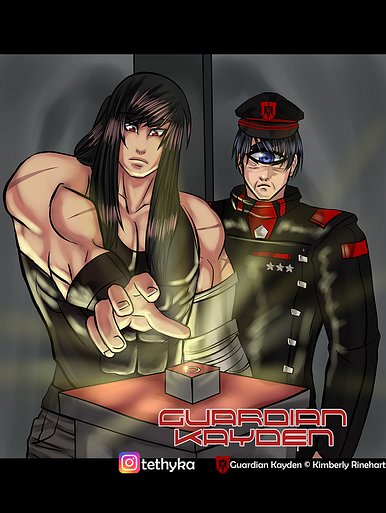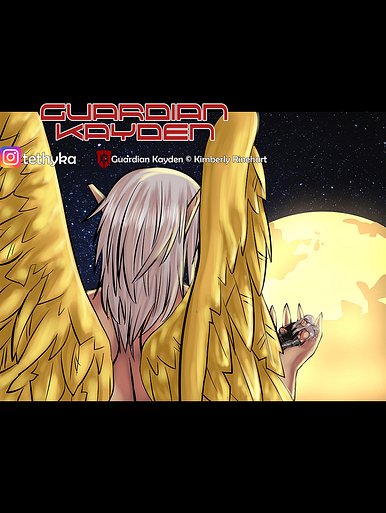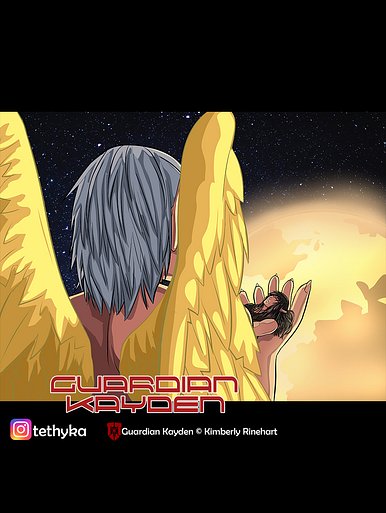 Gallery :: Behind the Scenes Part 3
This scene image was tricky due to the dramatic scale. But there was an error--Kayden looked like the past version, when in his visions he always looks like his future self. (except no goatee.)
I softened this one up and made Kayo's hair a lot more flowy. I minimized Kayden's size to make Kayo look even larger to make it more dramatic. I lowered the glow of the planet to make it look less like a glowing orb and indeed more like a planet. The lighting is a lot more dramatic in this version as well.
The introduction of the Earth Elemental, Gauss. He had super tan skin that I wasn't originally fond of, but again, in a hurry. I made the insane schedule of publishing three episodes a week and managed to illustrate for the majority of them...but the quality suffered. I was able to change that later and spend more time on the images to make them at a better quality. I regret not doing so sooner, but I was just eager to get the episodes out since at the time it was published on Tapas, I had 33 book manuscripts written. I wanted to get my favorite scenes out as fast as I could. Hindsight!!
This is perhaps one of my most favorite remasters. It is so drastically different and captures the spirit of the character a lot better than most others at the time I had done. His skin tone is corrected and his hair color also fixed. It portrays more of his abilities and not just a quick pose unlike the original that I was very happy with. His physique was also drastically improved.
This was not as strong of a scene image as I had wanted, and Kayden was too scrawny. Not to mention, again, his scars were missing!
I bulked Kayden the hell up and made the lighting a lot more dramatic. His hair is fuller and correctly lengthened. The coloring painterly style made it a lot funner and appealing to illustrate. I do believe the soft glow of the ring is more vibrant in this remaster.
This conveyed the emotional scene just fine, but the scale was incorect and the hair was rather dull on Felicia and Felici. Also, Kayden's scars are missing ... ( -_- )
Scale and anatomy are fixed, scars applied, and the hair is properly vibrant in this piece. The soft coloring painterly style makes it feel warmer and softer of an image. I was really happy with this one. :3
This was supposed to capture the first 'alien' excursion for Felici and Kayden (as well as the reader) to a whole new world. But I was unable to really convey that in my inexperience. This looked like a colorful Venus Fly Trap in one of the plants as well as a regular mossy forest.
I feel like this took the piece to a whole new level. Not only is the scale of the character properly proportioned along with corrected anatomy. (Not to mention Kayden has a mechanical arm in this one... -_- )
But the forest looks indeed alien and unique in many ways. The bioluminescence and ethereal glow the plants and trees give truly make it look otherworldly.
This one was fun to do but didn't capture the scale. Relentless Reeves was supposed to have gone into a berserking state where he scaled up in size to a hulking giant. His eyes were frenzied but not his stature.
This is more like it! The scale is probably one of the best pieces when showcasing the bigger aliens to smaller ones. (ie, Rio to Kayden ratio.)
Good thing that Cyrilin clothes scale up with the Cyril or else they'd all be naked giants. (XD)
This was to illustrate the defining moment when Kayden met Felicia. I had a hard time illustrating their expressions properly and was in too much of a hurry yet again. I wanted to convey it kind of like a comic page to showcase their expressions when they caught each other's gazes but didn't quite capture it enough. In the book and in the plot, a "Fated One" was special to a Cyril--it was a perfect match deeper than any of their conscious perception but at a deeper level. A real soulmate through and through. It was not just looking at an attractive person but being pulled to feel yearning and closeness to that person.
This one feels more like a comic page from a romance manga. (XD)
I was able to fix the proportion of the faces, capture the expressions, illustrate the hair better, and get the moment better than I had originally. I softened up their expressions and found that I really liked the remaster of this scene. Felicia's hair color palatte changes from here on out on the remasters to a warmer brown.
This one is another one I'm particularly proud of. It's not perfect, but it's good enough to convey what I had wanted and showcase the attributes of Kayden in his riled state for the plot to make visual sense. His hair is slowly getting longer since the period of a year is passing in the book. I wanted to show change and not just keep the characters static. I wanted them to grow.
This one was WAY off the mark! From his anatomy, hair, and face--I was completely unhappy with it but couldn't quite convey what I wanted at the time of its release. I wanted to showcase his eerie eyes and foggy vapor breath in this image--a very important and striking feature about him that would be more expanded upon in season two as well as the comic adaption.
This one was a lot better, though, the right arm is still wonky as hell. I ran out of time to complete it and due to the angle had a hard time proportioning it. Regardless, I am happy enough and walking away for I will always find flaws in my work no matter how many things I improve, it will never meet perfection. :3
The important thing was that I had peace to live with this version and could walk away with said peace. That is an important thing to have with a piece of artwork--to feel that it is sufficient for its experience and good enough to convey the desired feeling or idea.
The original introduction to the character Kaleb Anzer was a quick addition to the book I thought it could use. I wanted to have visuals for key characters added to the story to make the experience more memorable regardless that his initial scene wasn't that big of a deal. He would be a prominent character to show up later.
The first version of a Cyril to be scaled anatomically correctly. Also, the first time I used a proper reference--something I learned a little late to be key and very helpful in future images. I did, however, forget in the rush of the deadline I had to add his eyebrow. Because I didn't get the chance to change it for the printed run, I just kept it as a kind of "lol" factor for those that actually noticed.
This was the first time future Kayden (Raylen) is seen in the cannon timeline of the novel. Originally, I did not have his armor designed when this came out and only knew I wanted him to have gold feathered shoulders. My style was still developing and neither looked right to me, so I had put it on my list of to-dos to remaster this one. I loved how Raylen's hair turned out in volume, but it wasn't enough to sate me.
Nearly everything was redrawn and repainted in this one. Their features are now more consistent with the other remastered works in the series. Raylen's crimson tips in both the ends of his hair and his bangs are a tred from here on out. His armor was the same design as the black and gold armor but in a white and gold variety. In the future, he has two types of armor--one enchanted by being "blessed" with mana (the white and gold) while the particular Guardian styled armor for his Guardians under his banner. (The black and gold variant.)
Not only with more experience in male anatomy, drawing, and painting in general but the dramatic change in art style began. His iris also got smaller as per the redesign. His scars are not mapped since the character concept art design. This was not one of the earliest remasters but the first one seen in book/season one.
The first appearance of Radikur--The Beast Spirit. He was really scrawny and the wolfskin hood made his head and hair look even scrawnier!